We have beekeepers in southern Oregon who can remove swarms. Fill out the information below, and you will be contacted by a beekeeper shortly. Have a little patience – this automated system will forward your request to our Swarm Capture Team.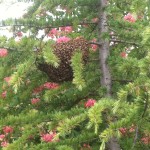 Bee swarms are large collections of bees clustered in preparation for locating a new home. Bees swarm as a natural method of colony reproduction. Bees in swarms are generally very docile as they do not have brood or a home to defend. Swarms are temporary phenomenon and usually occur in the spring. The bees will move on once they have located a new home in a few hours or a day or two. However, due to the fact that only about 15% of swarms survive in the wild, it is good to find a beekeeper to take the swarm.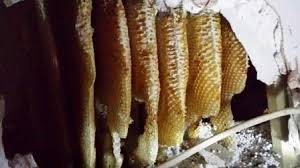 Bees who have established a hive inside a wall or other structure require an extraction. If the bees are coming in and out of a structure or container, or if you see honeycomb, this is an extraction. We are no longer coordinating the removal of honey bee colonies from structures, however you may Contact Us to receive a list of  SOBA members who perform this service.  There is usually a charge for removal of an established colony of bees – bees in a structure or other enclosed location. 
NOTE: This form should only be used to report swarms. If you are reporting an issue with bees other than a swarm, please use the Contact Us form.
If you have any problems with the form, please call 541 862 1604 and leave a message if no one answers. We will relay the information and call you to let you know that a beekeeper is on the way.
If you are in Douglas County – please contact: