Southern Oregon Beekeepers Association
Proudly presents our 2017
July 29, 2017
Presentations and hands-on demonstrations featuring:
Jan Lohman:  Oregon Master Beekeeper instructor, mentor, and committee member. Jan Lohman and partner Vince Vazza run over 2000 colonies based in Hermiston. Jan  is very active in the Oregon State Beekeepers Association, collaborates closely with OSU, and works tirelessly as a volunteer with the Oregon Master Beekeeper Program.  /www.beeculture.com/jan-lohman-interview/
Morris Ostrofsky: retired biology instructor and one of only 5 people to have been certified as a Master Beekeeper in the state of Washington.
Date:
Saturday, July 29, 2017 from 9:00 AM to 4:00 PM
Please
bring a lunch
and protective bee gear if you have it – a hat and veil, or a suit. Weather and time permitting, we'll demonstrate testing and treating for Varroa mites in the morning after the first presentation.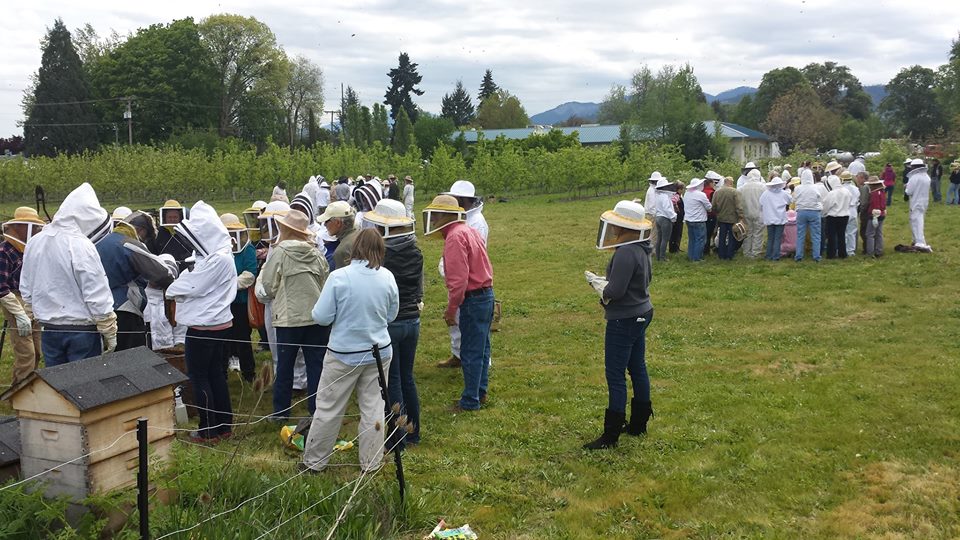 Landing Board Diagnosis/Reading Your Frames – Morris Ostrofsky

Beehive Observations— Hands On Hive Inspection

Swarm Catching—What Tools You Need to Catch Swarms – Ken Muhlstein

Mites Away or Mites Will Stay – Jan Lohman

Mellifera Mythbusters – Morris Ostrofsky

Preparing for Winter Bees in Summer – Jan Lohman
Where: Southern Oregon Research and Extension Center
569 Hanley Road, Central Point, OR (map)
Registration deadline is July 28, 2017 and is limited to the first 100 people.
Register by mail
Download SOBA Bee School Registration Form
Make check payable to — SOBA
Mail to:
SOBA c/o Cheryl Housden
PO Box 407
Wilderville, OR 97543-0407
---
OR
---
Register using PayPal