Southern Oregon Beekeepers Association
Proudly presents our 2018
April 7, 2018
The Art and Science of Keeping Bees in the Rogue Valley
Presentations and hands-on demonstrations featuring:
Date:
Saturday, April 7th, 2018 from 9:00 AM to 4:30 PM
Please
bring a lunch
and protective bee gear if you have it – a hat and veil, or a suit. Weather and time permitting, we'll work with bees during and after class.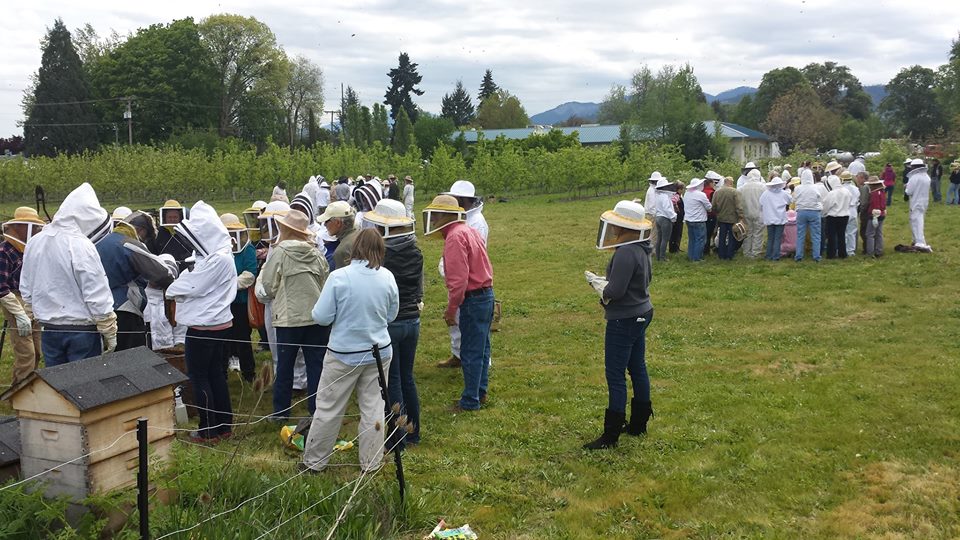 Program: (
Example Program from 2017. 2018 details coming soon.)
Equipment Overview and Choosing an Apiary Site
How to Survive the First Year of Beekeeping.
How to Inspect a Hive and What to Look For.
How to Put NUC/Package Bees into Your Hive Body.
Hands On Bee Inspection Demonstrations.
Ten Common Mistakes Beekeepers Make.
How to Feed, Medicate and Other Bee Management Activities.
What is Your Plan for the Next 3 Months?
Smoker Lighting Competition:
Prizes will be given for the fastest lit that stays lit for over 10 minutes, longest lasting and best smelling.
Bring your own smoker fuel and smoker. Some ideas for fuel are:
burlap – make sure that it is untreated for insects and mice,natural baler twine, pine needles, fine wood chips, small twigs, dry lavender and rosemary, dry rotten wood, dry tree leaves, untreated straw, uncolored paper, rolled, corrugated cardboard, rolled and untreated, .sumac bob, wood pellets, corn cobs, Dadant Smoker Fuel, beeswax comb
Things NOT to use include:
gasoline or other combustible oil, anything treated or painted or colored etc
Location:
Southern Oregon Research and Extension Center
569 Hanley Road, Central Point, OR (map)
Registration deadline is April  6 and is limited to the first 100 people.
The class fee cannot be refunded less than 7 days prior to bee school.

Register by mail (before April 7)
Download  SOBA Bee School Registration Form
Make check payable to — SOBA
Mail to:
SOBA c/o Cheryl Housden
PO Box 407
Wilderville, OR 97543-0407
---
OR
---
Register using PayPal. A PayPal account is not required. You can pay with your credit or debit card using the PayPal service.